Publications, Podcasts, Videos, Games & more
Downloads and links to publications and materials by Linda Booth Sweeney.
Books:
The Systems Thinking Playbook
by Linda Booth Sweeney and Dennis Meadows (2001). The Systems Thinking Playbook has become a favorite of K-12 teachers, university faculty, and organizational consultants. The book provides 30 short gaming exercises, classified by areas of learning Mental Models, Team Learning, Systems Thinking, Shared Vision, and Personal Mastery. The companion DVD shows the authors illustrating good practice introducing and running the 30 games. The DVD is available separately for those who already own the book. The book is available through Chelsea Green Publishers. For an educators discount, contact me: linda@lindaboothsweeney.net.
When a Butterfly Sneezes
by Linda Booth Sweeney (2001), Pegasus Communications.
A Guide for Helping Kids Explore Interconnections in Our World Through Favorite Stories. This book highlights 12 favorite childrens stories that illustrate key systems thinking principles, and shows you how to use these stories with children of all ages. Each chapter focuses on one favorite picture book and reveals the systems principles inherent in the story, general points for discussion, illustrations of key concepts, and questions to spark conversation for both younger and older readers. Purchase
Connected Wisdom: Living Stories about Living Systems
by Linda Booth Sweeney (2008). How do we learn to live sustainably or within the means of nature? Through this book, readers from 10 to 110 explore, through 12 timeless folktales and modern examples, how the laws that guide living systems can also guide how we live and learn. The book was designed by renowned graphic artist Milton Glaser, recipient of the National Medal of the Arts, and illustrated by award-winning artist Guy Billout. To purchase, contact Chelsea Green Publishers.
Connected Wisdom: CD
The Connected Wisdom CD (2010), a collaboration with SEED and master storyteller and singer Courtney Campbell, includes a recording of 12 folktales from the Connected Wisdom book. The CD also includes world music, new explanations related systems thinking and living systems as well as an interview with the author. The CD is available in English only from Acorn Naturalists here. To hear a preview of one chapter from the Connected Wisdom CD, click here.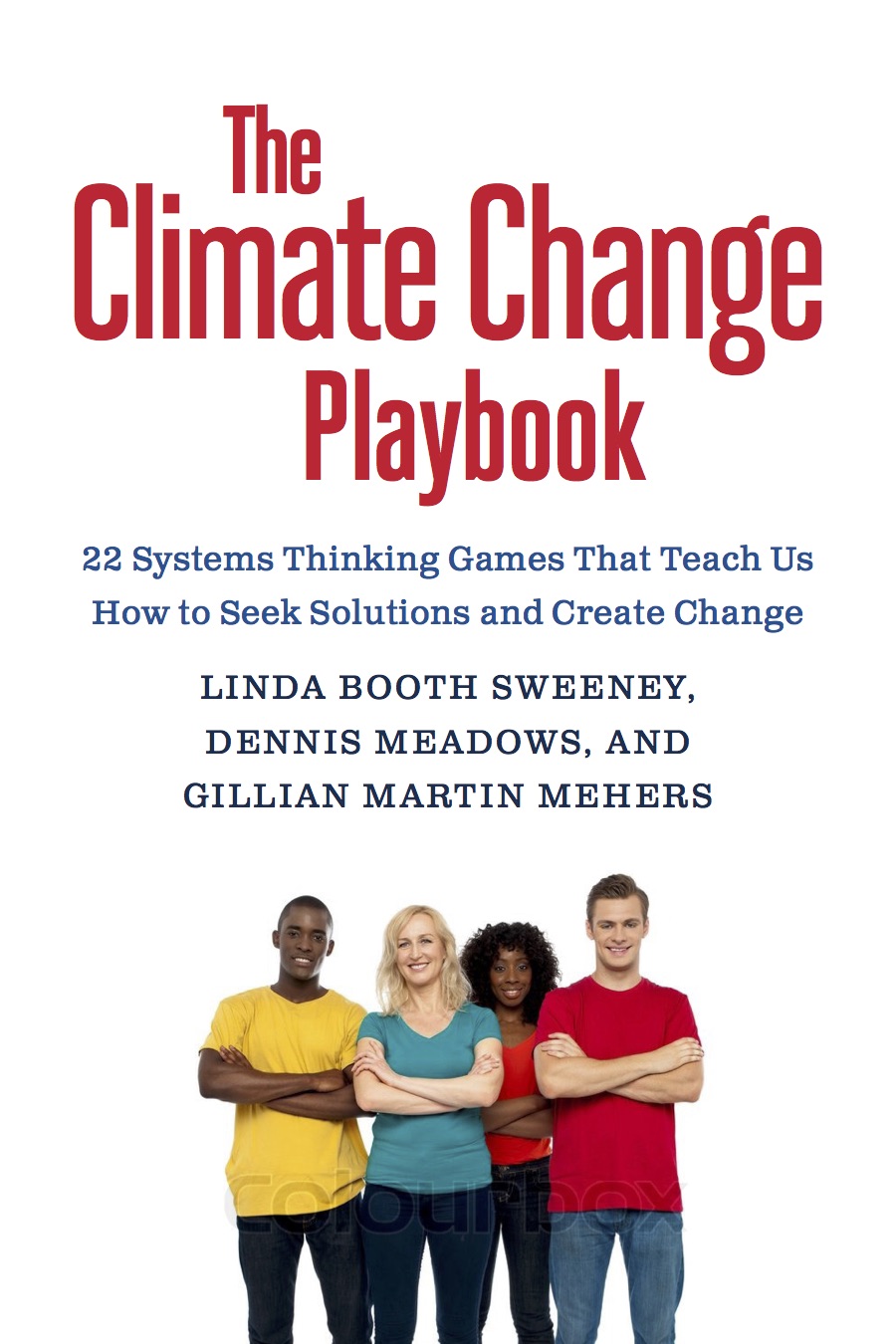 The Climate Change Playbook
22 Systems Thinking Games for More Effective Communication about Climate Change. By Linda Booth Sweeney, Dennis Meadows and Gillian Martin-Mehers (Chelsea Green 2016). These simple, interactive exercises in The Climate Change Playbook can help citizens better understand climate change, diagnose its causes, anticipate its future consequences, and effect constructive change. Purchase
Media-Based Resources:
PBS Systems Literacy Collection: Working with Ted Sicker at PBS Learning Media, we launched a pilot Systems Literacy collection for students in grades K-12. The current collection includes six PBS resources that have been repurposed to teach about complex systems.
The collection also includes two short videos:
What is a system?
To learn more about collection, watch the Becoming Systems Literate webinar recording http://tinyurl.com/l92avev. As part of this effort, hosting a SYSTEMS LITERACY google hangout, sponsored by WGBH. Come join in a conversation with others who are looking to foster understanding of complex systems in K-12 and beyond.
Podcasts/Interviews
Systems Literacy: Connect the Dots to Change the Game
Three-part podcast interview with The Science of Change
The Permaculture Podcast with Scott Mann:
Gets rolling about min. 4:45 where we talk about waysto use every day stuff (and games) to talk about climate change, and make a difference.
Playkits
"Thinking about Systems" Playkit:
by Linda Booth Sweeney, Drumlin Farm, the Creative Learning Exchange, with graphic design by Ann Jennings. The "Healthy Chickens, Healthy Pastures: Making Connections at Drumlin Farm and Beyond" is a systems playkit designed to help people (ages 8-88) to "connect the dots" and think deliberately about living systems in a farm setting. The kit includes a game, wikki stiks, systems glossary and more. A free curriculum guide is available here and you can download an article about the playkit here. If you are interested in a customized playkit, please contact me: linda@lindaboothsweeney.net.
Research/Articles:
All Systems Go! Developing a Generation of "Systems-Smart" Kids
Earth Ed: Rethinking Education on a Changing Planet: 2017 State of the World Report (The Worldwatch Institute, April 20, 2017), Read the complete article.
Learning to Connect the Dots: Developing Children's Systems Literacy:
How can can adults nurture childrens capacity to "connect the dots" through everyday conversations and activities? by Linda Booth Sweeney, The Solutions Journal, Volume 5, Issue 3, Oct 2012 ...Read the complete article
Systems Thinking: A Means to Understanding our Complex world:
by Linda Booth Sweeney, Pegasus Communication...Read the Article
Bringing back the wolves: Yellowstone National Park is Thriving, Thanks to a Long-feared Carnivore.
By Linda Booth Sweeney. Highlights Magazine for Children, June 2011, Vol 66, p 30 Systems thinking for kids. View Article
"It All Comes Down to Dirt?" Learning While Playing with the Healthy Chickens, Healthy Pastures Playkit, by L. Booth Sweeney. Creative Exchange Newsletter, Summer, 2011.Download PDF
"Teaching about Living Systems on the Farm: Remembering What We Already Know" by L. Booth Sweeney. Link to article, Farm-Based Education Association newsletter(winter/Spring 2009). Download newsletter
Thinking About Systems: Student and Teacher Conceptions of Natural and Social Systems by L. Booth Sweeney and John D. Sterman. 50th Anniversary issue of The System Dynamics Review, 2007. A much more readable version of my Harvard dissertation. Link to Journal
Understanding Public Complacency about Climate Change.
by L. Booth Sweeney and John D. Sterman. Rotman Magazine, Spring, 2007. Download PDF
"How is This Similar to That" The skill of recognizing parallel dynamics structures on center stage, by L. Booth Sweeney. Creative Exchange Newsletter, 2005 Download PDF
"Managing Complex Dynamic Systems: Challenge and Opportunity for Naturalistic Decision Making Theory" (2004). Naturalistic Decision Making. Book chapter co-authored with Dr. John Sterman.
"Cloudy Skies: Assessing Public Understanding of Global Warming." Special edition of The System Dynamics Review (2003). Sterman and Booth Sweeney (2002) Download PDF
"Bathtub Dynamics: Initial Results of a Systems Thinking Inventory" System Dynamics Review (2001). 16 (4), pg. 249-286. Co-authored with Dr. John Sterman. Download PDF
Things are often more interconnected than we see. When we "think about systems" we begin to look for interconnections everywhere and we assume that nothing stands in isolation.